A Faux Hawk also known as "fohawk" which literally mean "Fake Hawk" is an imitation of Mohawks. The pioneer of the Mohawks hairstyle are the indigenous people of the New England.
Mahicans shaved the sides of their head and kept a long central hair. We do not find Mahican but we can see a lot of evolved Mohawks even now. Faux Hawk has been rapidly growing to popularity as a fade haircuts for men. Moreover, it has been tremendously put forth by many stylist, thus catching our attention. It is a very trendy and edgy hairstyle and it is also acceptable in a formal and professional settings. Ultimately, the Faux Hawk fade is a versatile and intriguing men's hairstyle that epitomizes modern masculinity.
The Faux Hawk is a less dramatic version of the Mohawk. You clip the sides shorter than the strip of hair on the head instead. However, there is not a great distinction between them.
You are into punk rock? Want to look like punk rock star? Yet you can not because of your professional life? Then Faux Hawk is just the haircut you should consider. Inspired by the perpetually punk Mohawk. Faux Hawk is the less radical version that will give you a punk look as well as a helps you keep it fairly conservative and professional during the week.
How to style a Faux Hawk.

There should not be much distinction between the longer and the shorter proportions of your hair because Faux Hawk relies on good blending. It is best to apply a product such as hair gel, wax, pomade, or mousse, when your hair is almost dry so that your locks stays as you want. Use your fingers so that the product coats your hair. From here, your next step depends on the type of faux hawk that best suits your face shape. For added volume, harness a blow dryer to direct your hair back and along the center of your head. Use your fingers to work in a bit more product to get the desired hold then finish with a strong hairspray
Here are some awesome Faux Hawk trending this summer. keep that punk rock star alive inside you this summer.
Faux Hawk for Men.
1. Short Faux Hawk.

A short Faux Hawk is tamer than the longer versions of this hairstyle, and will allow you to add some texture to your hair. The trick when cutting a shorter Faux Hawk is to ensure that you style it with precision. You won't be working with longer proportions (making your styling less forgivable), so it is up to the product you're using to ensure it sits right. We recommend a matte hair product (pomades work nicely) and a lot of patience. You can use a comb, but your fingers are best for added precision.
2. Long Faux Hawk.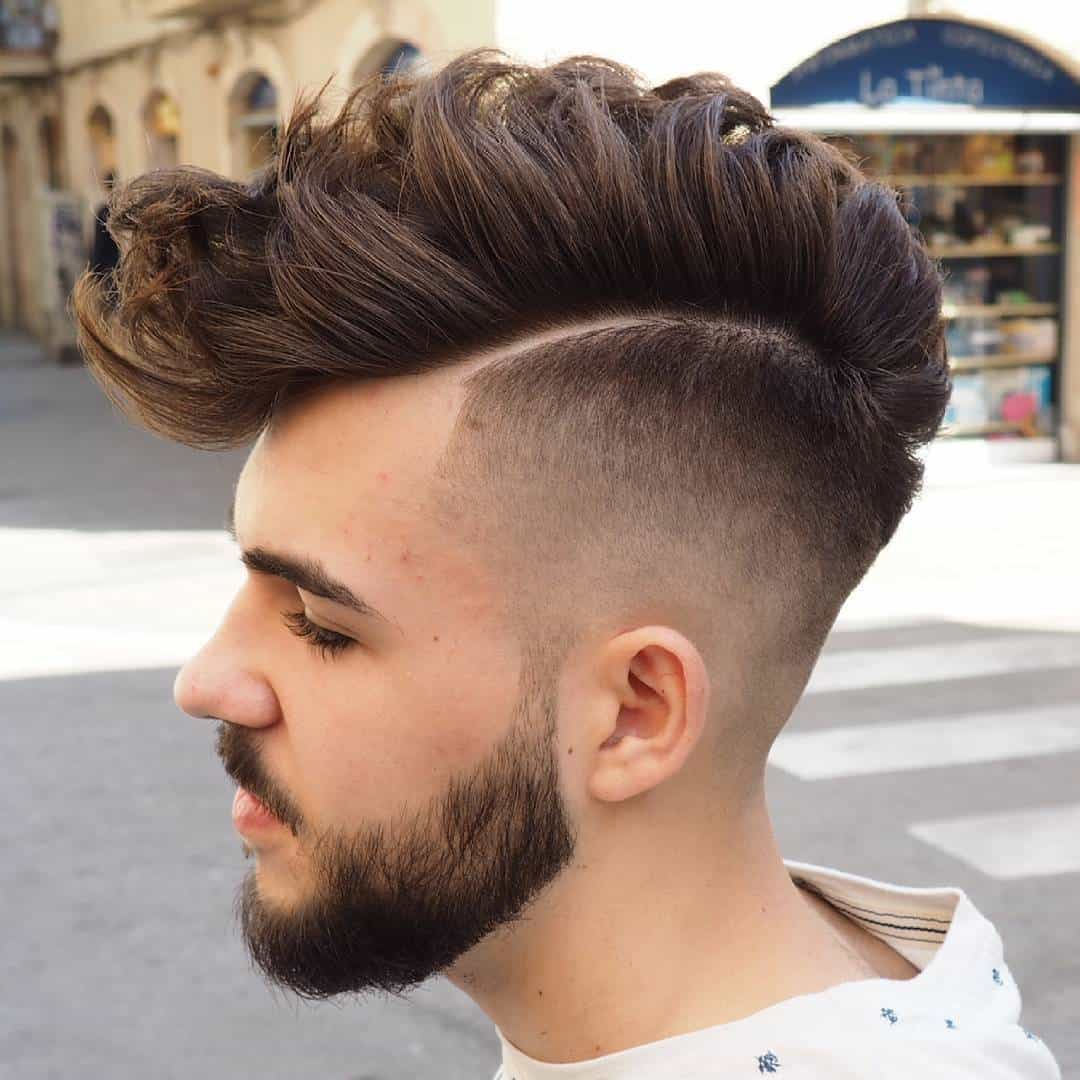 A longer Faux Hawk is different from a regular Mohawk, because of the blended proportions. This is integral for your barber, to confirm that he/she will not take too much off the sides. Product is paramount for a longer Faux Hawk, so use a decent amount to work in, ensuring that your locks are in place all day. There is still a lot of hair to work with, but it is all about trial and error – use your fingers to adjust your hair as you see fit.
You can incorporate a Faux Hawk haircuts with a fade or undercut because of it's versatility. Not only is it easy to maintain but it gives you the option to occasionally change your hair style. For example, if a long faux hawk is too aggressive for the office, you can simply change your style to a comb over fade, slick back, or textured quiff. Ultimately, trendy faux hawk styles provide men a number of different looks.
3. Taper Fade Faux Hawk.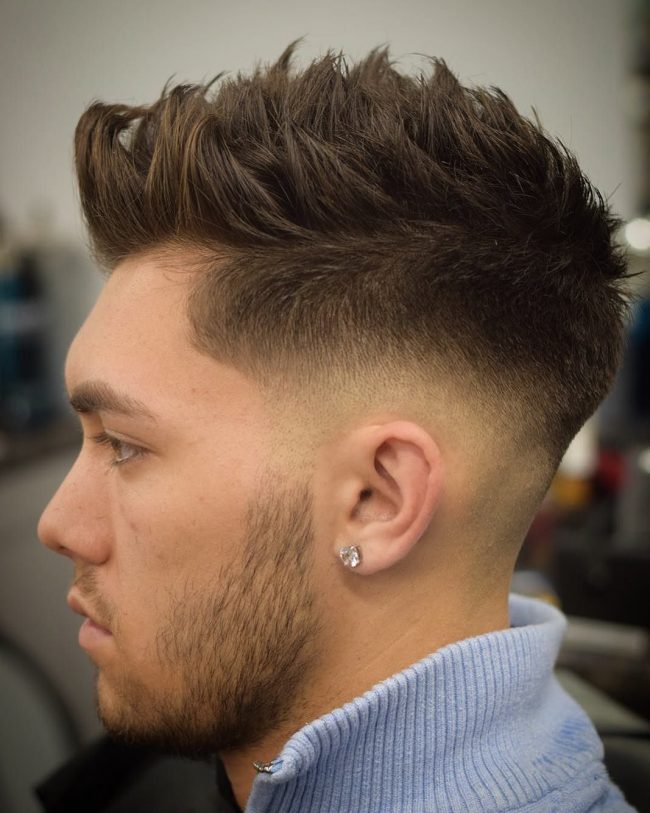 The taper Fade Faux Hawk blends the hair nicely on the side of the face. The trick to maximize the proportions of this cut is knowing what length will suit your individual features. This will better allow you to decipher whether more volume and length up top will work for your face shape. A fail safe option is to work with medium length hair for this hairstyle.
4. Low Fade Faux Hawk.
With a Low Fade Faux Hawk, it is important that your hair registers polished and well put together. As you're working with significantly shorter proportions at the bottom of your hair, a bit of gloss will go a long way and complement a low fade. Opt for a glossy gel or mousse and style accordingly.
5. Curly Faux Hawk.
For those blessed with curls, a curly Faux Hawk is a different way to lend dimension to your natural hair texture, particularly if you are struggling with a thick and unmanageable mane. Keep in mind that this cut typically works best for gents with waiver curls. Use a lightweight mousse or pomade that works well with your curls and style accordingly. For a refined take, blow dry your curls for a long-lasting hold but ensure you don't entirely lose the curly shape.
6. Undercut Faux Hawk.
The closest version to a Mohawk, the Faux Hawk undercut relies on a pretty big distinction between the sides and the center part of your Faux Hawk. Your overall aim should be to play down the severity of an undercut, making the center part of your hair register not as severe.
7. 

David Beckham Faux Hawk.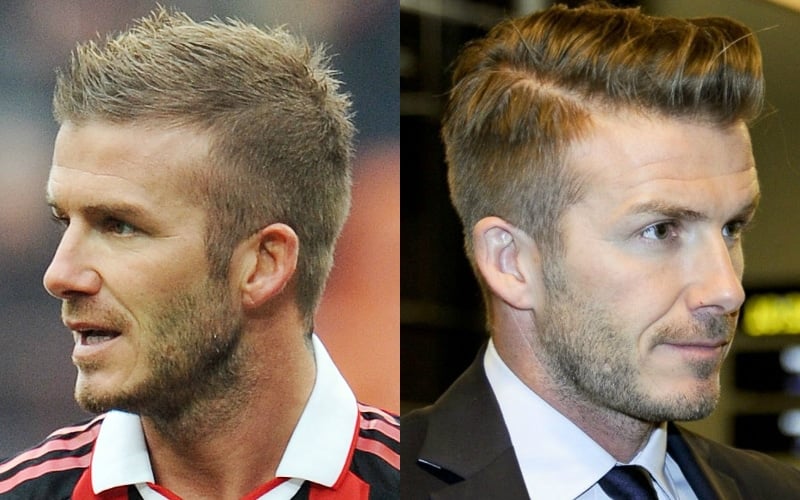 David Beckham shows us how to do the faux hawk justice, and his take on this cut has developed over the years. From his early years in soccer to his more modern interpretations of this hairstyle, Beckham keeps his hairstyle proportionate to his face shape. Beckham's modern cut still preserves faux hawk inspired elements but is more toned down in terms of balance.
8. Layered Faux Hawk
What your hair relies on for a good finished product? is the progression of your haircut. Due to the heavily feathered cuts made in this particular style, the depth and thickness visible are throughout the top and middle of the hair.
9. Shaggy Faux Hawk.
Do you want a messy touch and yet want to embrace a Faux Hawk? Then Saggy style is just for you.
10. Deep Part Faux Hawk.
The whole look of your Faux Hawk depends on how it's parted. Your hair on the top is understated and simply spiked where as the sides are parted deeply and then faded.
11.Spiked Faux Hawk.
This style of Faux Hawk is for the one who is looking for a little bit of edge and drama. It's gives you a wonderfully shaped and spiked Mohawk. Because the sides are clipped short, the top and nape are left longer.
12. Buzz Cut Faux Hawk.
You may think that Faux Hawk and Buzz Cut have nothing in common. Then be ready for a mind blowing surprise. Provided combination of shorter sides and longer buzz cut creates the visual effect of Mohawk.
13. Front-Combed Faux Hawk.
This style is all about the way you comb your hair. Enhancing a messy touch by combing it up, you accentuate the point-cut ends and the front-tilted quiff that shapes a cool silhouette of your style.
14. Extreme Faux Hawk.
A neatly tapered short sides and sharp and extremely spiked top section is what turns the head. Sometimes to spice things up going to the extreme with your haircut is just what you need.
15. Fingered Combed Faux Hawk.
There are extremely great numbers of Faux Hawk styles, however this one is all about using your fingers. Finger-combing styling technique used throughout. You have edgy spiked top and tapered sides.
16. Smooth Faux Hawk.
The majority of Faux Hawk styles has that aura of Punk/Rock Star chic channeled through their spiky top. However, it's also possible to keep your hair relatively smooth with a Faux Hawk, as shown here. The hair in the top, back and sides is neatly brushed and smoothed with a slight spike. We love the taper fade harmoniously blended into the style.
17. Skin Fade Faux Hawk.
There are many options available in terms of the men's Faux Hawk versions. In this picture, there is a bolder skin fade haircut on display, as the shaved sides and spiky top are pretty expressive but not too over the top.
18. Classic Faux Hawk. 
This is the classic look and shape of a men's faux hawk haircut. For the Mohawk look in this particular style. The top is left significantly longer while the sides are neatly cut short.
19. Pointy Faux Hawk.
One of the essential features of a Mohawk (or a Faux Mohawk) is its pointy top that's usually achieved by spiking with a product. In this picture, you see a crisp pointy top and the sides which are left pretty full.
20. High Top Fade Faux Hawk.
Black men probably pull off Mohawk better than other races, that's why this style is closest to the original Mohawk. The back is still faded, so we take this look rather for a cool Faux Hawk interpretation. Anyway, if you like it, go for it, no matter how it's referred to.
Faux Hawk For Women/Girls.
Faux Hawk are not only worn by men. In this fashionable era even girls and women have cultivated their own Faux Hawk styles. So if you want to be seen, noticed, complimented, stared at and mused over time and time again then get ready. Here are some of the most trendy and edgy Faux Hawks for girls and women.
1. Two Trick Ponytail Faux Hawk.
One of the very easiest and fun way to carry your long hair consisting of overlapping ponytails. The underneath ponytail gives you volume, while the over the top pony smoothes over, creating an even curve and stabilizing the height. This crop will give a sleek and professional look.
2. French Braid Pinup Faux Hawk.
This French braid based Faux Hawk is a classic pinup style gone wild! Dark violet shades fade to a lighter violet in lush strands, piled high in messy loops. Intricately twisted and pushed forward towards the forehead, this female Faux Hawk is sure to impress!
 3. Messy Fishtail Faux Hawk.
This Siren style Faux Hawk features chunky twisted pieces, a side braided ponytail, and a bold copper tone that screams Irish Princess. Wear with a longer flowing skirt and loose top to re-create a smoldering, come-hither look. This style works awesome for long hair.
4. Punk-Rock Princess Faux Hawk.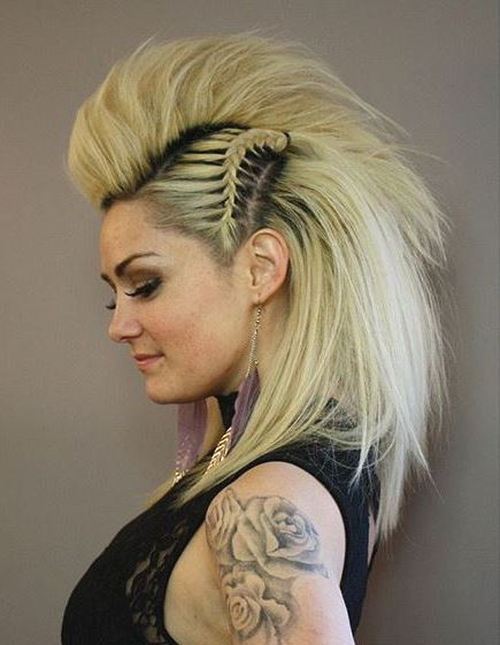 This teased up Faux Hawk with bangs, defined by two braided lines, will bring out the inner rebel in you! Blond overtones scream out for you with a guitar in your hands, wearing a mini-skirt and matching lips, to play and sing for adoring fans! Daydream away!
5. Messy Braided Faux Hawk.
This brown blonde ponytail is a must element for achieving the mermaid's Faux Hawk. The hair is crimped to enhance the texture of the hawk braid and there are tiny braids and twists in the pony. What a cool girl`s Faux Hawk look for an adventurous girl!
6. Billy Idol's Hot Cousin Faux Hawk.
If you want to look more bold and daring than this is just the style for you. The closely cut sides as well as the bulk of hair is done up top and down the center of the back. Furthermore, creates a strong rigid line, thus giving a fabulous height. This is truly an unforgettable eye-catching style!
7. Black Braided Faux Hawk.
However, African-American hair has fantastic texture for sculpting. The smooth undercut is given a even line around the crown  consequently, giving the braid visual enhancement. Moreover Braided Faux Hawk features a sleek and unique style.
8. Amber Wave of Faux Hawk.
Are you not ready for shaved sides yet want to have a Faux Hawk. Cornrows will do the job. Not only the three side braids draw the eye to the Faux Hawk waves but also Amber highlights increase the visual lines of the waves and offer a gorgeous dimensional effect, enhanced by the darkened roots. Thus, this Faux Hawk girl is definitely ready for adventure!
9. Retro Pop Can Up Do Faux Hawk.
Female hairstyle options are endless. And so are the ways to create the looks. This one reminds us of the old trick of setting your hair with pop cans to get big waves. With a sweep of pastel lavender color, this up do looks elegant while pushing the boundaries of traditional hair. The big curls on top even have a wave like motion to them!
10. Tattoo You Tonight Faux Hawk.
This short, Faux Mohawk is unbelievable – fierce and feminine at the same time! Roses carved into the side give a soft, tender feel to the base, while the hard angle of the Hawk rises to the point commanding attention. These days, creative freedom is welcome, so if you have always wanted to be artistic with your hair, there is nothing to stop you! Go for it!
11. Lobster Tail Faux Hawk.
Fishtail Braids are just a bit more interesting than traditional three strand braids. This look involves a thick plait to create the Faux Hawk, while the sides are demurely pulled back, culminating in what looks a bit like a lobster tail. Blonde hair has a bright feel, livening up the concept of the women's Faux Hawk. Wear all year round.
12. …And I Will Always Love You Faux Hawk.
Most of the Faux Hawks are created equal. However, this curly style calls up the elegance of an iconic singer, and everyone will love this look. Black hair color with a touch of gold gives a regal definition to a glorious pile of ringlets. The sides pulled back tightly finish off the look with a contrast.
13. The Neelix Faux Hawk.
For the die-hard Trekkie, this is a tribute to a lesser known character from one of the shows named Neelix. He was from another planet, and as we are getting closer to a possible answer of whether we are alone or not, this windswept Faux Mohawk with braided sides will bring you right along into the future!
14. Wedding Day Bliss Faux Hawk.
The curly, looped Faux Hawk for women you see in this picture is exquisite and detailed enough for your big day. Not only a series of twists and tucks, but also a bouffant in the front, is accented with delicate blooms in the fancy crown. They are tucked inside the faux hawk, drawing the eye up, up, and away!
15. Spartan Warrior Faux Hawk.
Traditional Spartan Warrior helmets had plumes of horse hair in a Mohawk shape down to the nape of the neck. However, if you have long hair, these braided plaits are a fascinating way to recreate the design of a Spartan helmet. Furthermore, try with a dress or your favorite jeans!
16. Pink Pixie Princess Faux Hawk.
As far as bold moves go, Shaved Sides with Pixie Cut as well as Faux Hawk initiates a pretty radical look! Messy bedhead styles never get old, and this one-of-a-kind shaved hair cuts for girls has all the excitement of a young Pixie in love. Wear with anything because this hair makes a statement of its own!
17. Where Did You Get Your Hair Done Faux Hawk.
Finding a unique up do, the one you can wear with an evening gown, is a tough challenge for Faux Hawk women. This combination surface braid and pompadour is as individual as you! Blonde tones layer into the depth, while the frost floats up top. The tight low bun closes out the lines at the nape of the neck.
18. Asymmetrical Pixie Faux Hawk.
Stepping outside your comfort zone is not easy. However, this off center cut has a story of its own. Short, brown hair with bangs says "I have a unique story, and I'm proud to show off my style!" A super cute look for any age.
19. Athenian Goddess Faux Hawk Up do.
When you want volume, elegance, class, and curls, give a try to this messy, classy up do. The loose French braid restricts the pile of blonde curls arranged into a faux hawk that defies its own roots. Furthermore, wear with something flowing, and you will draw every eye, every time.
20. Sweet Tart Peaked Faux Hawk.
Many female pixie cuts are similar, but this one stands alone! Not just any girl's faux hawk is powder blue with a line of peaks drawing the eyes in several directions at once. This faux hawk also pushes the boundaries of the style, just perfectly. With hair like this, you won't have to worry about your outfit matching. It's the perfect accessory even to the simplest look!
21. Natural Hair Fohawk.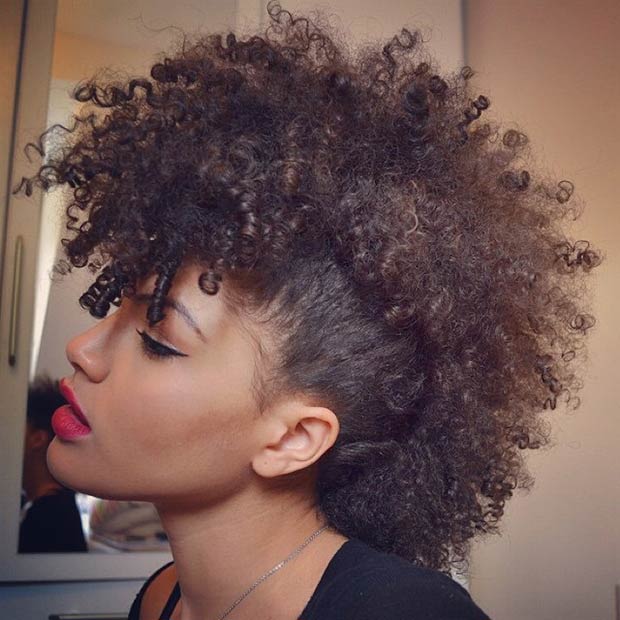 Embrace your natural hair with this gorgeous faux hawk. Start by sectioning the front of your hair in a triangle shape. Secure it with a hair clip. Take another section of the hair and tie it in a ponytail. Repeat with the rest of your hair. Do not clip the front section, and there it is, your new favorite hairstyle is ready!
22. FAUX HAWK FOR SHORT HAIR.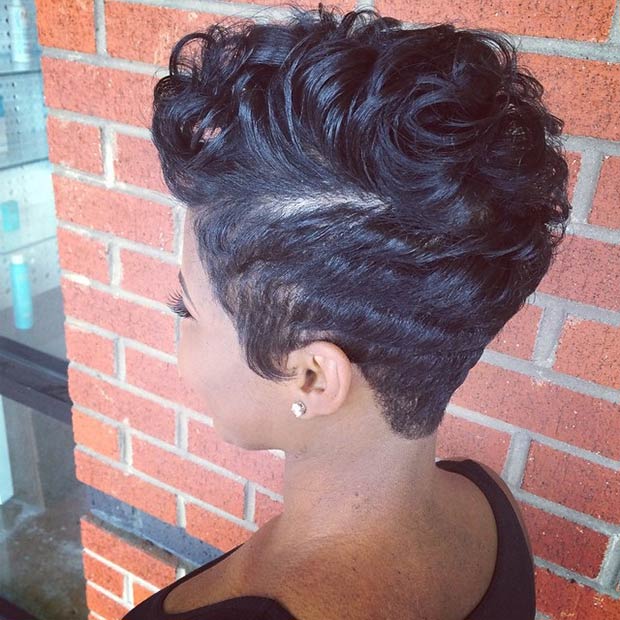 You will love the simplicity of this Faux Hawk haircut. The style is perfect for women who not only want a bit of an edgy look, but also do not want to shaving the sides of their head. Short hairstyle are easy to maintain and style, furthermore they are everywhere this season. If you opt for this style, you will definitely make some heads turn.
The Faux Hawk you have always desired are now in front of you. Surely you would want to try these looks and get busy this whole summer and why not?. As you can see above are the undoubtedly upgraded, improved and expanded versions furthermore, giving you new inspiration to create your own styles and versions today. The Faux Hawk has been the talk of the town and rightly so. Because it gives you the Punk Rock look as well as a professional and conservative touch to your persona. Look your best this summer and shine all day.