The Fade haircut are most probably the only haircut that exemplified coolness. The U.S. military around the '40s and '50s actually were the pioneer of this haircut. Having strict grooming standards the crop was and still popular not only among military men but also among the civilians. Moreover, the harsh line and angles signaled you meant business and also looked dangerous.
Naturally, new times usher in new trends. Over the decades, Black folks experimented with different hairstyles, whether it was the Afro or the infamous Jheri curl. By the time the mid 80s rolled around, a reworked, edgier version of the fade was emerging thanks to Black barbers. It would soon become a standard in hip-hop culture during its golden era.
We're talking about the hi-top fade a.k.a. the flattop. Before Cameo, Big Daddy Kane, Eric B & Rakim and others made it their signature look, Grace Jones rocked one on her 1980 Warm Leatherette album cover. Because Queen Nefertiti's crown closely resembles the hi-top, many believe it derived from Ancient Egypt.
     Coming back to the present without doubt no matter what the Fade haircut's popularity and existence has not faded yet. In the contrary it has been gaining more attention. But always remember the fade type you get has a dramatic on your hairstyle. To get that super cool men's haircut you will need a cool fade.
You can opt short or long hair outside the area of the hair that gets faded hence, creating contrast. Due to long hair's versatility you have a huge range of option on how to style your look. You can slick back, keep it more natural and dry, mess it up, style it neat with comb-over and more. Within the faded area on the sides and back of your head. Ask your barber can really alter your look dramatically depending on how he does the fade. In general you have three options: a low, mid or high fade haircut. For each type of fade your barber will use clippers to go from a very short length or even bald. And graduate up to a greater length towards the top of the head. If you want a little extra style ask for a hard part or a specific hair design.
Here are some of the famous Faded hair styles you can wear this summer. Be a cool dude you have always wanted to be.
1. Low Fade Haircut.
One of the coolest haircuts you can get. The medium length hair is slicked back dry and natural. However, the fade touches more length in the upper sides.
2. High Fade Haircut.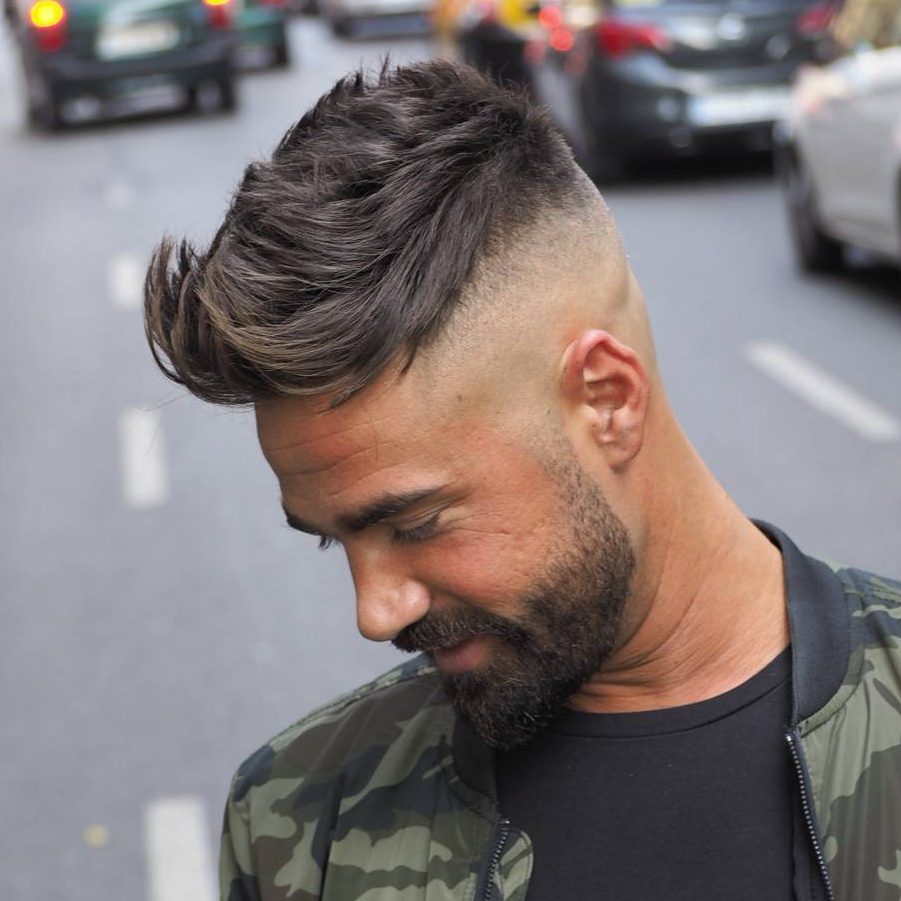 Here we have a mid fade that blends perfectly into a textured medium length of hair.
3. Sharp and Sexy Fade.
A bald fade haircut creates dimension and furthermore, relief in hairstyle with a lot of sharp angles and precise curvy lines. The faded effect draw the eye down to lengthen a round face and balance chubby cheeks.
4. Balanced Fade Haircut.
A Faded short haircuts are similar to longer looks sometimes. Moreover it provides a great structured silhouette to the hair on top and balances a full beard on the bottom. Plus, it provides an interesting texture in the middle needed for a clean look.
5. Professional Bald Fade Side Part.
Are you a businessman and want to change hairstyle for a new look? A fade that starts in the middle allows for a more seamless transition. You can style it as a sleek comb over with part to add a dapper retro twist to your look? Not only Mid Bald Fade Hairstyle is work appropriate but also its less aggressive and more polished.
6. Straight to the Point.
If you are a man who prefers to set trends instead of following them, a high skin fade is more of your speed. The fade begins high at the top of your head for a more severe and strong look. Moreover, it gives you an excuse to try chic patterns on your beard like this pointed style.
7. Geek Chic.
This picture is a good example of balancing vintage and modern feel in one look. A pompadour is a great way to add length to short faces and it also lends a sophisticated touch to your rugged 5 o'clock shadow. Accessorize with a fun pair of retro glasses.
8. Simple Short Cut.
This look blends a curly buzz with a subtle temple fade into a simple yet stylish look for black men. Want an additional twist? Try a thin chin strap for a youthful and unique look. It may not be appropriate for conservative work settings, but if you have a more casual office environment, you can't go wrong with this simple style.
9. Half-and-Half.
No need to choose just one length or cut, when you can combine everything you want into one show-stopping style. With a slick side part on one side and a high skin fade on the other, this style has a split personality—and it works!
10. Wonderful Wild Waves.
Create a contrast in lengths by rocking medium spiky locks with waves on top, taper fade on the sides and sexy stubble on the bottom. Also you would be surprised by how much a little dose of color can elevate a look; random pieces of gray hair throughout the short pieces offer even more edge and interest.
11. Edgy and Elevated.
A skin fade haircut is extremely popular, so if you crave individuality you have to do something to set yourself apart from the rest. Incorporating designs into your fade, long on top, elevates a standard fade and takes it from drab to fab in the blink of an eye.
12. Short and Simple.
A bald fade, or a cut that fades to skin on the sides, is an easy way to get a clean look furthermore, without wacky designs or crazy details. It's a precise cut that will work well for occupations like the military or jobs that require wearing a uniform.
13. Magnificent Mohawk Fade.
Accent an Afro-Mohawk with etched lines that highlight the curve of your skull. They will support the vibe of your overall look without distracting from the central curly section which is the star of the show and where you want to draw the eye.
14. Haute Heights.
Don't underestimate the power of sideburns to amplify your skin fade haircut. They may be a bit retro, so modernize them pairing with a trendy long top short sides style. You can wear it as a pompadour, add a texturing product or swoop it to one side – there are a few creative ways to style this look.
15. Making Waves. 
A textured mid-bald fade is a go-to look for many black men, so put a cheeky spin on it with a design that mimics the waves within your cut. Instead of a regular part, this will be more interesting and exciting.
16. Old School Cool. 
Channel the vibe of the cool guys from the nineties, like Kid-n-Play, with a high top fade that is too cool for school. The extra height is also great for round and square faces because it adds length—not to mention personality!
17. Structured Shaped Up.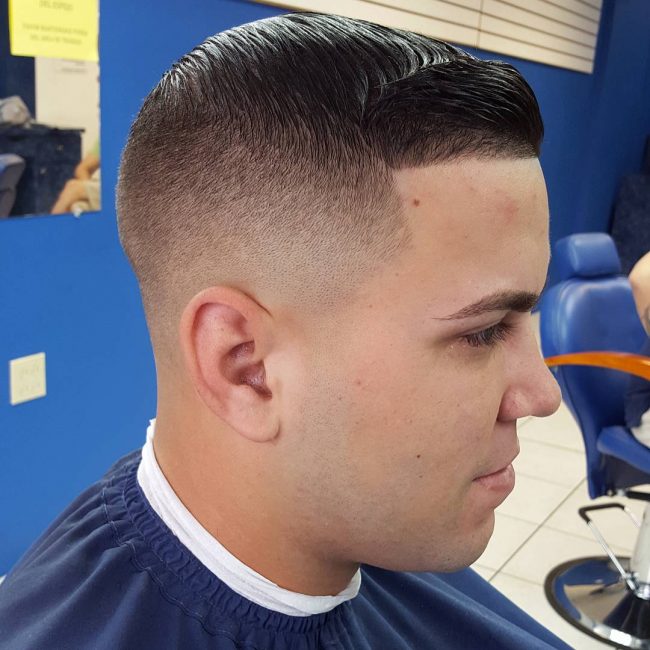 If you want a less dramatic look, go for a low skin fade like in the photo. For many Afro-American men a shape-up, or the sharp lines around the edges, is the most important part of a bald fade haircut. It is designed to clean up the hairline to achieve a polished appearance.
18. Shaved Head Fade with Comb Over.
A comb over is always a quick way to instantly soften your look for a more approachable style that will definitely wow during a date night. The shaved part offers a nice accent to liven up the rest of your bald head.
19. Disconnected and Dapper Fade.
If a full beard and head of hair is too boring or mature for your taste, funk it up with a skin fade. The break in the flow of your hair will create a cool optical illusion. Plus, it helps to temper thick dark strands so that they don't appear too heavy or overwhelming around the face.
20. Shaved and Sexy.
This bald fade haircut is shorter in length as well as have sharper angles of the facial hairstyle. Such a simple yet stylish look doesn't distract from the main attraction—your face!
21. Dark and Dangerous Fade.
You don't need tattoos or an outrageous haircut to show off your dark side, sometimes a bit of pomade is all it takes. Channel your inner super villain with slick dark hair; just make sure you add a charming smile so everyone knows it's all in good fun.
22. Sleek and Sophisticated Fade.

     This style is a good example of a low medium bald fade that can be used in a conservative setting. Balance a faded cut as well as a crisp part and a carefully coiffed hair up top for a look that will be polished without being too stuffy or buttoned-up.
23. Bald Fade Caesar Cut.
A Caesar cut can look like a simple buzz cut furthermore, the entire hair is cut to about an eighth of an inch long. The hair is visible but very low. The best thing about this haircut is that it is very low maintenance and easily done!
24. High Top Fade.
The high top fade is an awesome choice for those who like to have a little extra length on top. Not only it also works very well for those who want to grow mass amounts of facial hair like full beads but also the contrast from the top and the shaved sides provides a beautiful canvas for facial hair.
25. Traditional Line Up.
A traditional line up is a type of skin fade that is common amongst ethnic men. It basically includes the razored hair line to maintain either a square or rounded shape. Meanwhile, the actual length of the hair is kept to a minimum.
26. Faded Up-sweep.
The faded up-sweep is a very quirky and cool style for men that brings attention to the eyes and bone structure in the face. With a dramatic contrast between the clean sides and high up-sweep, you really make a statement.
27. Side Swept Skin Fade.

     The side-swept look is great for those who want a devilish aesthetic while keeping the hair to a minimum. You can keep the length at the top and casually sweep it to a side while your sides remain clean.
28. High Top Waves with Side Part.
The high top waves with a side part are a lovely choice for ethnic men who want to keep it classy for a formal or professional setting. This is not your everyday hair cut. Yet, it really makes you shine when worn correctly.
29. Heavy Gradient. 
A heavy gradient skin fade is essentially a type of haircut when the hair is allowed to gradually transition from very dark or thick to a slightly tapered cut. It is very simple and it grows out evenly so it is very low maintenance.
30. Slicked Back High Top.
This slick high top is well worth trying due to its sexy formality. When you prefer to keep the top hair slightly longer, it is great to make good use of hair gel because it will have your hair setting nice and smooth.
31. High Top Windows Peak Skin Fade.
The high top widow's peak is a good fit for men who are starting to slightly recede at the hairline. The hair on top is short enough to maintain a neat look and long enough to show off some texture and contrast with the closely clipped sides.
32. Polished Fade.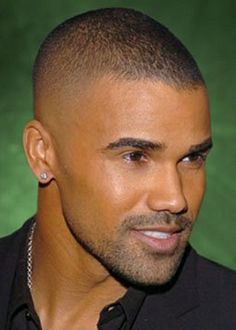 This well-polished hairdo does well to fit any face shape. The lines are clean and the gradient cut is on point. This is workable for any occasion!
33. Simple Buzz Cut. 
This simple buzz cut works on all hair types. It is a quick and easy fix for those men who prefer to keep it simple with their skin fade. It's also very low maintenance. Because everything is basically kept to the same length, you don't have to worry about awkward choppiness once it grows out.
34. Box Top Haircut with Side Part 
The box top and round high top hairstyles were a hit trend in the 90's, and they are making their way back on to the fashion scene! This is awesome for those with Afro hair textures. It is the black man's answer to an up-sweep! Moreover it really makes a bold fashion statement.
35. Tapered Mini Afro with Side Part and Skin Fade.
Fade haircuts have evolved from classic taper. But nowadays, the trend has become more diverse than ever, with men rocking longer (even curly) hair on the top of the head with contrasting shaved sides. In other words, the style can be worn in a multitude of different ways.
This is not your traditional skin fade hair cut because only the temples are slightly faded. The rest is a small, well rounded Afro with a dashing side part. This looks best on men with wider face shapes but could potentially work on anybody! It's a crazy cool hairdo.
36. Sleek Fade with Side Part.
The sleek hairdo with a side part is very handsome, moreover does well to suit mature men. It is very polished and put together as well as allowing you the freedom to get a little messy. With a good comb and some hair gel, you can rule the world! Or if you wanted to just rock it natural, the hair would fall in a very casual but cute way.
37. Messy Fade.
This messy fade is great for those guys who want a chill, low maintenance hairstyle that still looks nice. For this style, it is good if you have natural straight hair to encourage the spikiness. Ruffle the top of your hair with a product every morning to make sure it has that tousled appearance.
38. Dramatic Up-sweep with Faded Sides.
This dramatic style is awesome for edgy guys with a stand alone personal style! With nearly bald sides and a heavy up-sweep at the top, this is bound to say something about you. It will say that you know you're hard core and furthermore, you don't care about anyone else's perception of your style choices!
39. Wavy Side Swept Hairstyle with Faded Sides.
This wavy side swept style with faded sides is a perfect choice for men who like to look just a little scruffy, but it is tasteful at the same time. If you choose not to sweep it to the side you can allow the hair to do its own thing and wear it confidently as such!
40. Dark Temple Fade Haircut For Black Men.
A dark temple fade is a hairstyle where the top of the hair is allowed to grow in dark to about 2 inch. A gradual fade begins starting from the temples around to almost nonexistent sides. Furthermore it is very fitting on men of color!
41. Boys Fade.
This basic skin fade is a good style for men who go to a variety of events. Because of its simplicity, it can work for formal occasions, the office or the basketball court!
42. Short Layer Fade.
This triple layer fade is very dramatic but divinely handsome! The top of the head is kept very dark, the middle is kept low but visible and the nape is nearly bald. But, it provides such a cool gradient that very few can pull it off as well as Ludacris!
43. Hipster Taper Fade.
The look of hipsters, artists and well-dressed men in general, the taper fade style is one of the sexiest fade haircuts. And the best part of all? It's incredibly low maintenance, only requiring some light styling with a bit of gel or pomade.
44. Taper Fade.
In case you don't like high-contrast high fades, opt for a perfectly blended shadow fade. With this short fade look, you'll want a line up, and bye-bye styling tools and styling products!
45. Drop Fade.
Drop Fades are named what they are because the fade will drop behind the ear. This typically means that the taper will form an arc from the temples to the nape. Get this fun update for your fade at your next visit to the barber shop.
46. Blurry Fade.
The blurry fade with a pompadour for men can be worn in both a professional and fun, eccentric way. However, it takes a steady hand and eye for precision on the barber's part to ensure the perfect blending of the men's fade haircut – so choose yours wisely.
47. Faded Undercut for Longer Hair.
Faded Undercuts really picked up speed last year, and the new trend is only looking to grow. The hair is combed back slick and either held with a styling gel or let loose. The key is that the hair on the top is significantly longer than the rest of the head.
48. Mid Fade with Designs.
When it comes to fade hairstyles that incorporate geometric, abstract designs, the sky is truly the limit. If you have angular facial features, opt for lines with acute angles and mirror them in your facial hairstyle.
From the above list of fade cuts  now you already know how many types of fade are out there. To name some:-
Classic Fade Haircut.
Taper Fade.
Shadow Fade.
Skin Fade.
High Fade.
Low Fade.
Mid Fade Cut.
Temple Fade.
Drop Fade.
Scissor Fade.
No matter what race you belong to Fade cuts suits all and will be the right choice for you. However you just have to chose what type of faded cuts suits you the best. So as Fade Cuts are becoming popular and trendy this summer you have to try one of these cuts and you will not regret.  For example, low fades are best for oblong, triangular and diamond head shapes, mid fades look great with facial hair. High fades will suit square and round face shapes, look good only on scalps without lumps and bumps. Scissor fade cuts are a great option for specific head shapes. Let's move on to fresh high fade haircuts for guys!