In early ages bald or balding men wore Comb Over fade hairstyle to minimize the appearance of baldness. They grow long hair on the sides and comb over the bald area of head thus giving the appearance of hair on the top as well. Sometimes the part is lowered so that more hair can be used to cover the balding area.
Now in our age where hairstyles have been improvised and evolved there are many cool ways to wear the Comb Over Fade. Due to the Comb Over Fade's versatility no matter what hair you have curly or straight or any face shapes you can wear a Comb Over Fade easily and in style.You have many options when you get a Comb Over Fade. You can choose a skin, mid, high or low fade on all sides of your head. Moreover you can add your own styles to the Comb Over Fade for more defined look.
If you haven't found a nice comb over to fit your style, you may not have been looking hard enough. Comb over styles vary a lot, allowing guys to truly make their haircut their own. For example, you have a choice between an undercut or taper fade on the sides. The short sides and long hair on top provide a sharp yet cool contrast that catches the eye.Similarly, you may choose to accentuate the side you comb your hair to with a hard part. Or maybe you prefer to have some volume to your look, and want a spiky finish on top. The point is you can do this cut any way you want and it will still look super hot. Here are some of the coolest and most trendy types of Comb Over Fade for you to wear in 2018. Look different and be the center of attraction.
1. Short Comb Over Fade with Side Part.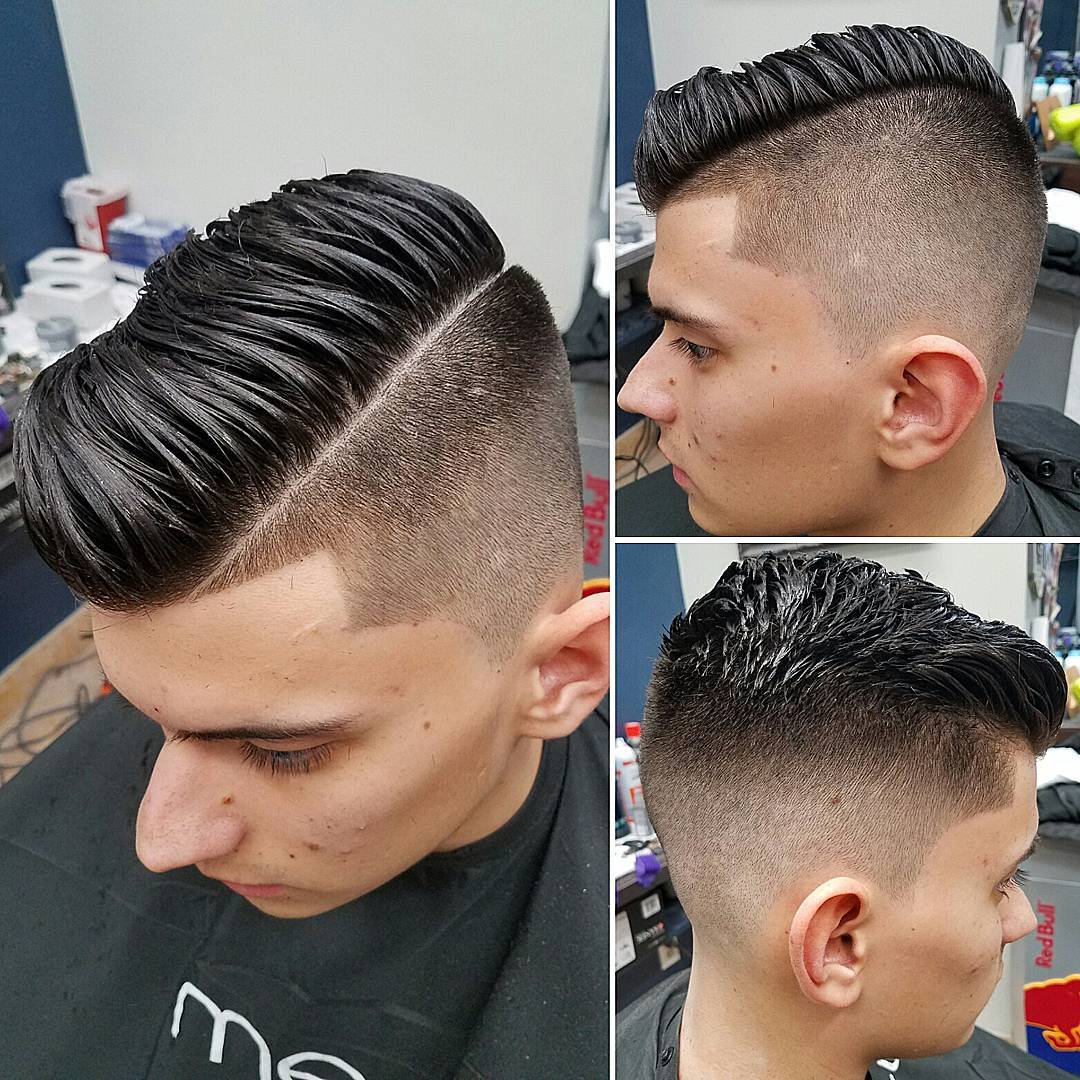 Out of many Comb Over Fade styles this one is very easy to maintain. You do not need to spend a large amount of your time everyday to look good. Just keep your hair short and give it a spiky look at the front. Now all you need to do is keep the rest of your hair on the other side. However, you might like to use a good amount of hair gel so that you get a perfect look.
2. Razored Comb Over with Pompadour.
What has never gone out of fashion is the Razored Comb Over Pompadour. So get your Comb Over Fade haircut furthermore, club it with Pompadour at the front. However keep the sides of your hair razored. Moreover if you want a bolder look try a light beard.
3. Mohawk Comb Over Fade.
     If you want to look the boldest try the Comb Over Fade with Mohawk. However you need to have the guts and be a die hard fashion freak to adore this style. Want to be the popular guy around the town? Just do it Dude!
4. Polished Fade Comb Over.
Yes there are times when you would like to might want to look an absolute gentleman. Then this style is one for you! A sophisticated fade with comb over hairstyle for short hair. Blonde guys would rock this style though!
5. Heavy Top Clean Low Fade Comb Over.
You can flaunt your heavy and volume hair with this comb over low fade hairstyle. You can keep the top hair to medium and comb over that will show off the volume of your hair while keeping the sides and the back at a low fade
6. Bushy Medium Fade Comb Over.
How about trying something unruly? Even the shaggy hair can look cool if they are combed over nicely and this bushy medium fade comb over is one of them. Teenagers and college guys can see this as the best option if they want to keep their hair length a little more than average without any worries of getting pulled up by their parents or teachers!!
7. Messy Fade Comb Over hairstyle.
If you have a natural curly hair then just go for the Messy Fade Comb Over. It will do wonders to your natural curls moreover, the faded sides will help in drawing more attention towards the natural curls.
8. Taper Fade Comb Over.
This hairstyle looks good on men who are in their 30s, but a mandatory condition for this taper comb over hairstyle is that the person should have dense and thick hair as then only the tapered look will get a sharp finishing. Serums and hair gels will make the style more attractive.
9. Short Comb Over Fade.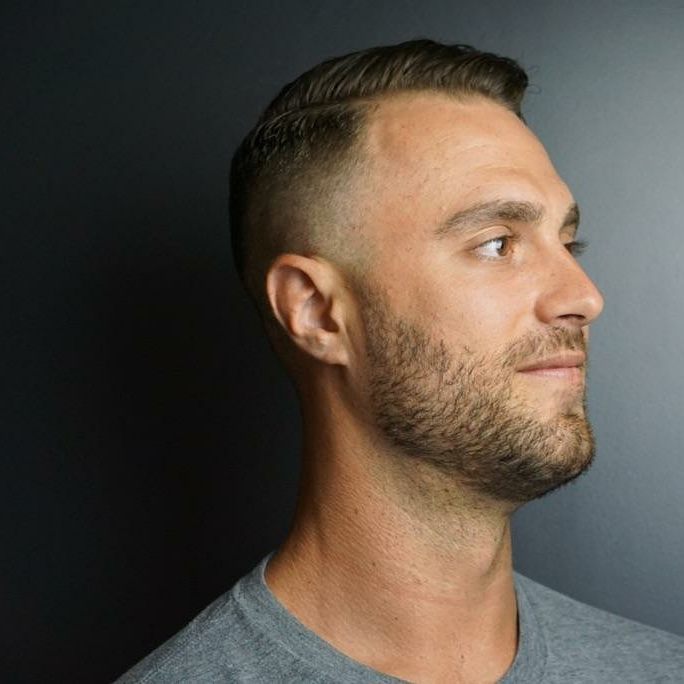 If you like your hair short try the Short Comb Over Fade. It is a great way to carry your short hair. Furthermore, keeping the side part and combing over will give it a complete and cleaner look.
10. Slick It Back and Comb Over.
Another comb over hairstyle is a fusion between the back swept and a mid fade comb over, however it resembles with the side part but it actually is comb over mid fade. You need to keep your hair a little longer to be able to slick them at the back.
11. Cool Taper with Comb Over.
Yet another taper comb over haircut is this one! This style will not be that easy to carry because the designer tapering is what makes it different from the other comb over taper fade haircuts.
12. Low Skin High Fade Comb Over.
To give yourself a perfect manly look, try this comb over fade with beard. The high fades are combed over while the sides are faded and a thick chinstrap beard gives this style the finishing touch!
13. Low Fade Faux Comb Over.
This fade comb over haircut looks good on everyone. Thin guys to heavy guys, all can wear this look without worrying about how it will look, because it is a made-for-hairstyle. So if you are not a kind of a person who like much of experiments with his hair, then this one is for you.
14. African Fade Comb Over.
African guys have a very different hair texture. This hairstyle is an excellent one for them. The extra-short and extra-dense curls can be kept to a medium length while the sides must be kept faded.
15. Bend It Like Beckham.
The next thing that David Beckham is famous for other than his football game is his hairstyles! There is not any hairstyle this man has not tried. And so we take honor in mentioning this David Beckham comb over fade hairstyle where he has neatly combed over his hair to the side while keeping the sides short.
16. Asian Comb Over Fade.
This is one comb over fade Asian guys would love wearing as it is one if the easiest styles. Not at all time taking as your salon guy will only have to maintain a length of your hair combing it over and fading away your sides and back.
17. Comber Over with Shaved Sides.
Perfect style for young men ready to join a graduation school! Comb over your long bangs and keep the sides shaved hence, giving it a neater look. However complexion will have its role to play in this hairstyle, so guys with darker complexion, unfortunately this one is not for you!
18. Comb Fade Over for Long Hair.
Long hair men can wear a comb over fade in many different ways. You can go for a side part or no part and simply apply a good hair product and comb over your bangs at the back or to the side.
19. Sexy Medium Comb Fade Over.
Guys with not only a medium length hair but also with a different texture can also look sexy wearing a comb fade over. Go for a comb over taper haircut or a back swept or leave your longer hair in the front,as a result you are sure to look amazing.
20. Wavy Comb Over Fade.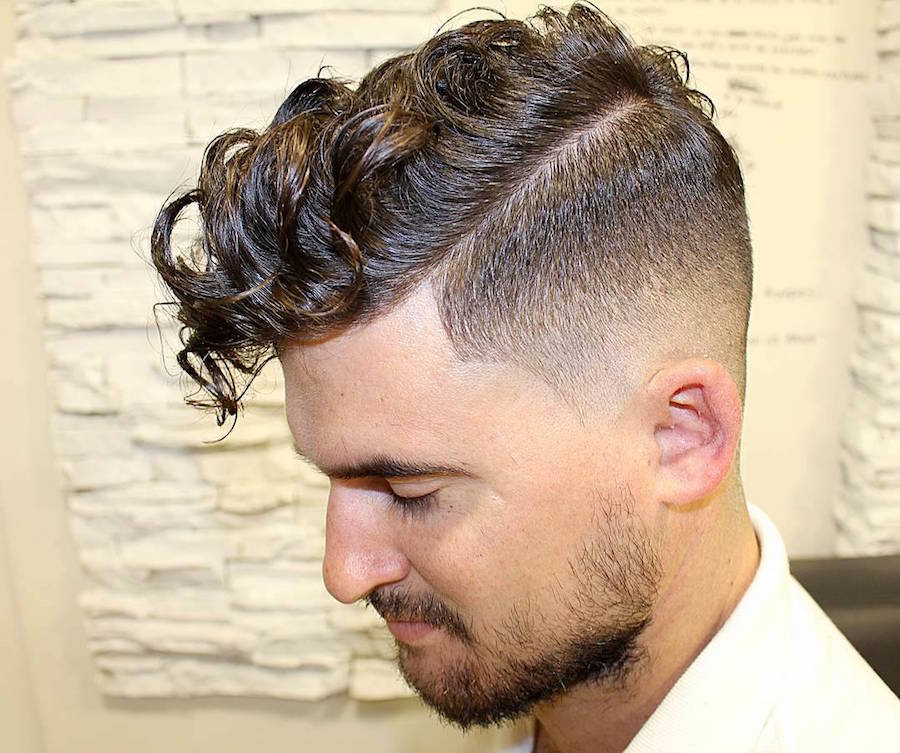 This one is the cutest! For those who have a chocolaty face and wavy hair are the lucky winners for this hairstyle. However, slight beard can make you look chocolaty plus sexy.
21. Clean Mid Fade Comb Over.
A very decent haircut furthermore a best example of comb over with clear shaved line in which the hairs are mid length faded from the back and sides giving you a perfect look.
22. George Clooney's Comb Over.
George Clooney's salt and pepper hairstyles are much common among senior citizens. But how about a clean side part with copper shade. Isn't it look amazing?
23. Side Slick Back Style.
     Another classy hairstyle with neat comb over hair slicked to the side is a perfect choice for business men.
24. Modern Style with a Shaved Line.
Another edgy hairstyle with side swept hairs and clear shaved line.
25. Comb Over Fade with Hard Part.
JoeyBWood with a stylish hard part Comb Over hairstyle with Bald Fade done by MarioNevJr.
26. Men's Sexy Wavy Comb Over Fade.
Men's Comb Over Fade hairstyles are not only good for any texture but also wavy hair. You may keep back and sides extremely short for a super neat look that however features nice texture and a statement side part.
27. Men's Long Top Short Sides Haircut.
They say that blondes have more fun, but this look means business. With every piece of hair perfectly in place, this is a streamlined style that would pair just as well with a suit as it would with jeans and sneakers.
28. Long Polished Wave.
This is a nice look for a social man who is always out and about. By pairing classic long waves with a trendy low fade comb over, you create a style that is balanced enough to fit in a variety of different events.
29. Tight Crop with Shaved Part.
This haircut from PJ's Barber Shop is the epitome of classic furthermore cool. The skin fade on the sides is contrasted by the long top and accented by the shaved part. To keep it fresh, pair with a modern facial hairstyle.
30. Deep Side Part with Slight Highlights.
Although it's common to see comb over fade cuts popping up pretty much everywhere nowadays, there are more than a few ways to make them stand out––including adding subtle, sun-kissed highlights. Keep layers tousled for that effortlessly sexy, messy effect.
31. Short Crop with Buzz Fade.
Super-long layers may not be acceptable for every man. But as this short comb over shows, you don't have to look like a hipster to part your hair on the side. Just keep sides (and top) cut fairly short so you look clean and perfectly groomed.
32. Razor Sharp Comb Over with Dramatic Fade.
At Anthony Barber you get the high and tight right with this razored Comb Over and dramatic fade, paying close attention to the sides and corners of the forehead. We recommend keeping facial hair to a minimum and eyebrows freshly tweezed or waxed, so neither of them distract your look.
33. Spiky Side Swept Layers with Fade.
Due to it's versatility Spiky Side Swept Layers with Fade is one of the most popular haircut you can sport. Moreover it's appearance is sexy and furthermore it is easy to wear and has low maintenance. However a high, chiseled fade to the skin may look a bit more impressive and statement-making when paired with long hair on the top of your head.
34. Classic Comb Over with Modern Twist.
Popularized in the 40's and 50's, classic comb overs are one of the most eternally striking haircuts for men. But when paired with an eye-catching mid fade, that old-time style gains a sexy, modern twist. For this one, keep hair above the ears shaved for a cool contrast of long, short and bald.
35. High Fade with Beard and Long Layers.
If this trendy high fade cut with a beard suddenly inspires you to start drinking craft beer, listening to indie rock bands, no one has heard of, and wearing tight jeans, you can definitely blame us for that. Moreover channel your inner hipster by keeping your beard loose and unkempt.
36. Curly Low Fade.
Although comb overs are traditionally seen on men with straight, sleek strands, some of the best modern looks in this genre can be sported with naturally wavy and curly hair. Similar to a regular pompadour, use a styling gel to keep the long front sections of your hair slightly elevated.
37. Taper Fade with Sleek Top.
This side comb with taper fade from clipper crew barber shop is incredibly easy to achieve. Just ask your barber for a taper fade with medium length hair on top. When styling, smooth the front layers back with a sturdy hair gel.
38. Hipster Fade with Extra Long Hair.
If you're a hipster, you absolutely need to try this edgy comb over taper by Am Barbaria. Sleek, modern and wild all at once (we have the scraggly beard to thank for that), you'll be lumberjack chic in no time.
39. Undercut Comb Over with Bleached Layers.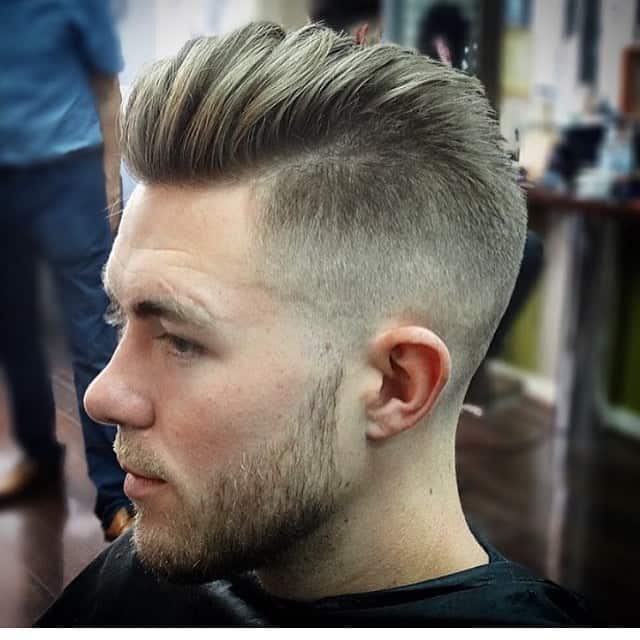 Think bleached ends are a boy band-friendly trend from the late 90's and early 2000's that should remain locked in a vault? We truly believe you should think again. This undercut comb over goes to show that sporting well-blended bleached layers can provide an undeniably sexy, modern edge.
40. Front Comb Back with Five O'clock Shadow.
Although most comb overs flip the hair horizontally across the head, in some cases (like the comb over hairstyle pictured here), the hair is combed from front to back and tapered towards the nape of the neck. Keep things simple and carefree by incorporating a high fade into the mix.
41. Classic and Cool.
Make your blue eyes pop with a deep brown comb over fade haircut. Moreover lets your facial features shine and exposes to the world.
42. Vision of Vintage.
There's something very dapper about the polished side-parted fade, and it is reminiscent of the days when men would not leave the house without pocket watches and three piece suits. If you're in love with the elegance of days past, this is the ideal look for you.
43. Fresh and Fun Cut.
This is a clean-cut look for a guy who needs to appear presentable at work, but does not want to give up on his own personal flair. This slick preppy style with a low-cut beard is the perfect balance between work and play.
44. Waved Hairstyle with Added Volume.
For a really modern comb over hairstyle, look to none other than Mariano Di Vaio. Not only his chic comb over is very trendy with lots of root volume to it, but also a bit of a textured wave. The relaxed laid back feel of this style is truly magnetic!
45. Side-Parted Textured Comb Over Hairstyle. 
If you're looking for a style that's more modern than traditional, check Robbie Rogers comb over fade for inspiration. Robbie has a textured elongated top, separated from very short sides with a side part. These features altogether provide a very modern feel.
46. Neat and Elegant Preppy Hairstyle.
You can take inspiration from retro looks to give your classic comb over hairstyle a very stylish preppy touch. Furthermore with a mod quiff style, you can instantly transform your  ordinary short haircut into a very elegant and chic hairstyle.
So many hairstyles are there to choose from and you might be confused which one to pick? Don't worry you can try any of the comb over fade with part hairstyles, all you need is to know about the texture of your hair or better yet catch up with your hairstylist who will be able to give the best one to suit your face!